A journey to Myanmar's deep South
We traveled overland all the way from Yangon to Myeik, previously known as Mergui. The first leg (Yangon – Ye) by public bus. It took around 11 hours. There isn't much to see in Ye, as it is a sleepy little town. We had arranged decent accommodation at Star Light Guest House. The owners, a US-American and his Burmese wife, have recently opened a resort nearby. We were told it was the best place in town to stay.
We enjoyed the Sasana 2500 temple, situated in a lake. It had a unique collection of the sixteen dreams of king Pasenadi of Koshala. They are still today a very important guideline for Buddhist believers. The king, who was a personal friend of Gautama Buddha, had sixteen strange dreams and frightening dreams that he could not explain.
So he asked the Buddha for help in interpreting those dreams for him, which he did. Dream no. 6 took our attention and we found it amusing. It was illustrated in a painting  depicting both the King's dream and the Buddha's interpretation. The king dreamt of a mangy, scabby dog (some say a wolf or a jackal) seen peeing into a bowl made of pure gold (left picture), while the villagers are standing by looking on and encouraging it. The Buddha's interpretation according to scriptures was to reassure the King that these prophecies would only come to pass in the future and not during the king's life. This, he said, would be when the time reaches 2500 Sasana years or circa 1957. The scriptures of the Buddha's interpretations said that  " … when rulers would be dishonest ,avaricious and evil , the good people will not be respected or praised anymore, thus reducing reputations. So they have to make friends with bad people i.e. foreigners for the sake of their reputation". 
A very modern interpretation/explanation can be found on the right side of this mural. A shy young girl and a European boyfriend with long hair and a stunning lilac suit are sitting on a sofa. He holds his hand around her shoulder in a possessive posture. Definitely not the type of man a decent Burmese family would dream of as a son-in-law. Anyway, we liked and could easily identify with him and his situation. Father and mother are sitting on their sofa, with the father seen unpacking a present presumably from the young man. He and his wife don't seem to be happy or amused, judging by their facial expression. So, what's the moral of the story? The dog/wolf represents the foreigner suitor as you can see by the colour of his hair and his face. Most probably, the girl's parents are poor and have to give their daughter's hand to a 'good for nothing' foreigner who will spoil their daughter, without doubt. 
And the moral of this story?  If the good Burmese parents have to give their daughters to foreigners in marriage it brings great shame on them. This relatively modern Burmese thinking and its comparison to the times of the Buddha probably has its roots in the British Colonial times. The British defeated the Burmese Kingdom in three wars and subdued her people for over 100 years. This has greatly affected the national psyche and led to a jaundiced view of foreigners that lasts to this day. The Burmese road to socialism probably was an attempt to reassert the national identity as Burmese and anti-foreigner. The Buddhist upper classes in Thailand's as well as in Myanmar until relatively recently did not approve of their daughters marrying and being corrupted by foreigners. Shame on me and our American host!  
We rented a car from Ye to Dawei in order to see the famous Dawei Special Economic Zone now known simply as 'SEZ'.  Believe it or not: this we are told is going to be one of the most important deep water port projects in South East Asia! At least that's the master plan. A coal-fired power station (Tanintharyi has large coal deposits) and a bustling harbour that some think may threaten Singapore's dominance in the future. This we thought was wishful thinking by the government.  What we saw, however, was a beautiful beach at Yaw Min Gyi /Nabulay, (see photo), some excavators silently rusting away in the sun and some houses. In one of them the great designs of the Myanmar government and her Thai partners were on display. Let's hope it's going to stay that way, as it would be the end for the beautiful beaches near Dawei. The whole coast is dotted with beautiful beaches. At the time being 'Paradise Resort' (definitely no luxury resort!) seems to be the only one where guests can stay. Even though it's a long way from Dawei. We stayed at the Hotel Dawei, which is surprisingly exclusive – if not posh! Nice swimming pool but breakfast could be better …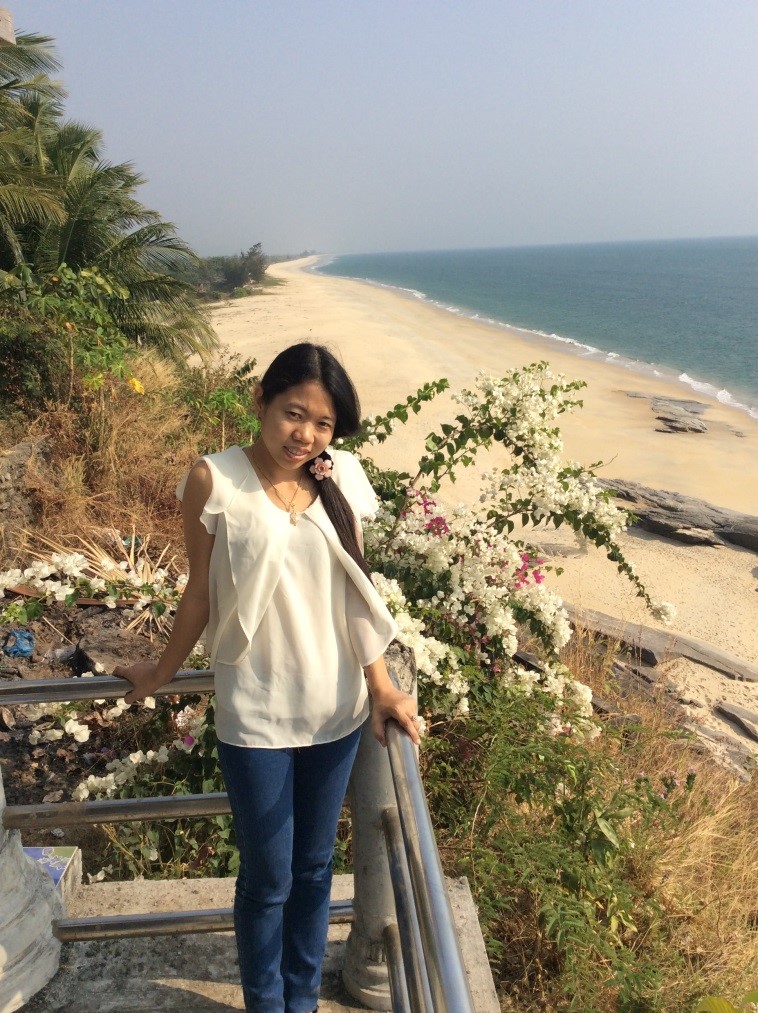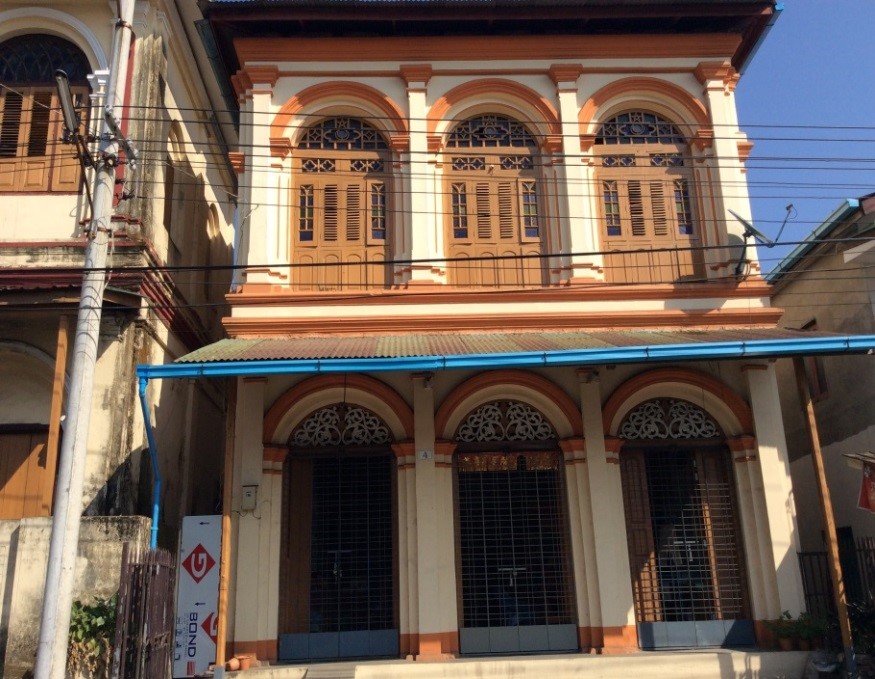 From Dawei we took a shared taxi to Myeik where our friend Kyawt Kyawt was waiting for us. She was born in Myeik and now runs a travel agency there. She booked a nice room at the Green Eye Hotel which offered spectacular views over the harbour and Pahtaw Pahtet Island with the big reclining Buddha, and of the old town, too. It had a nice roof terrace where we had our breakfast – which needs improvement … As at all coastal towns good seafood was available at the night market and at Mergui de Kitchen, located in an old colonial building, where we enjoyed dinner.  
Quite a number of early Chinese Immigrants (called 'Baba') are living in the city. Like the Baba Chinese of Malacca (sometimes called Peranakan Chinese) they can date their origins to around the 6th Century or thereabouts.  We saw Chinese dragon dances in the streets during our stay. There are even some Malays (called 'Pashu' in Burmese) living in the city who have managed to preserve their Islamic culture.
The city of Myeik (formerly known as Mergui) is the most populous in Tanintharyi province. A few miles to the north there is the port dockyard where wooden ships are overhauled and built with traditional methods (see photo). Definitely worth seeing! Myeik is a kind of melting pot of different nationalities.  For centuries, people from all over Asia have come here to trade and to make business.
Despite several destructive fires in the not too distant past Myeik still has a lot of beautiful colonial architecture to offer (see photo on the right) especially in the area of Palae Road. Those houses are more than one hundred years old and one can only hope that the city fathers of Myeik will try to preserve them for future generations. We found beautiful Chinese shop houses which would not seem out of place in a now well restored Singapore environment. There was even a well-preserved public fountain. Surely, a walk in the past!
When going to Myeik, don't forget to read Maurice Collis' 'Siamese White', the story of a British freebooter who served as harbour master there for the Siamese king in the 2nd half of the 17. Century A.D.  – it didn't bar him from preying on the shipping in the Bay of Bengal. After a tumultuous life he finally made his dream come true and retired to England, in order to lead the life of a gentleman – which he had never been! However, he didn't have a lot of time to enjoy the fruits of his misdoings, as he died in his first year in England … Probably too cold for him after all his years in the East.
A trip up the Tanintharyi River
The Tanintharyi River runs from the Bilauktaung Range (that separates Myanmar from Thailand) all the way to Myeik, the biggest city in Tanintharyi Region (formerly: Province).  The region is named after the city of the same name. From Myeik it is about two hours by car to Tanintharyi. However, we took the regular river ferry from Myeik to the village of Pa Wa, located about three hours upstream on the East bank of the river. The ferry has a capacity of well over 100 passengers who sit on wooden benches. 
From Pa Wa we crossed the river to the village of Maw Ton in a very small boat. In Maw Ton the Myeik – Tanintharyi main trunk road touches the river. From there it's only a short ride to the city of Tanintharyi (see photo of jetty below). Adventurous travelers can carry on all the way to Kawthaung, Myanmar's southernmost city. The road from Myeik to Tanintharyi is fairly good, and we were told by our driver that the road further south from Tanintharyi to Kawthaung and the Thai border town of Ranong was OK, too! To get to Ranong you have to cross the River which forms the border between Myanmar and Thailand. 
Tanintharyi city
Hardly anyone who comes to this city today would believe that it was once a very busy trade center on the overland route from Myeik to Siam (Thailand). Before the era of steam navigation, sailing ships tried to avoid the long and dangerous route around the tip of the Malay Peninsula where the city of Singapore was founded later. Notorious Pirates in the Straits of Malacca, treacherous waters and dangerous storms had caused traders and sailors long ago to think about an alternative safer route for their trade with the Kingdom of Siam.  And thus they forged the overland route from Myeik across the mountains to Siam. The ships sailed up the Tanintharyi River and from there the goods were transported by elephant and horse caravans to the Siamese side. The British author Maurice Collis has described the journey in his book 'Siamese White' (see above). It is also mentioned in Axel Aylwen's trilogy 'The Falcon of Siam', the life story of Constantine Phaulkon, a Greek adventurer who served as a minister under the Siamese king Narai. Today, Tanintharyi (formerly called Tenasserim) is a sleepy place with nice wooden houses and a colourful market. The once busy jetty doesn't seem to be much frequented these days.  A hotel at the edge of town offers decent accommodation.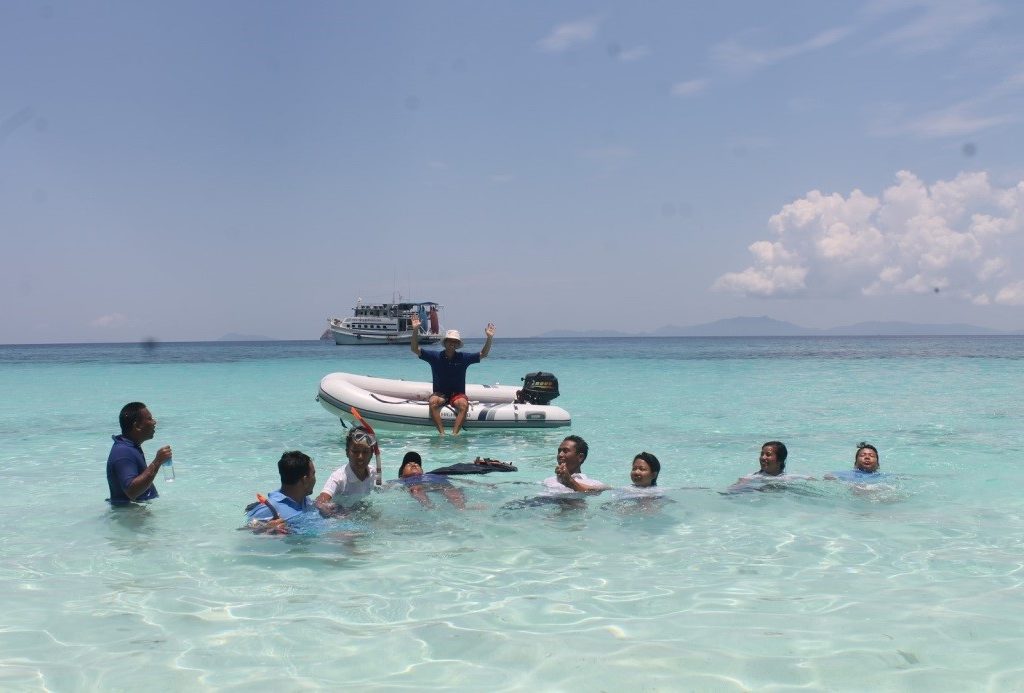 Myeik Archipelago by speedboat
In Myeik we booked a trip with Aqua Wings, based at the jetty. The tour included: swimming at Smart Island, a waterfall on another island, a visit to a Moken (sea gypsies) village and a snorkeling tour, price 80 $ (foreigners). It takes more than one hour through mangrove forest until you see the first stretches of blue water. Our first stop was Smart Island which looked quite alright from a distance. However, when we disembarked (there were only three foreigners on the boat, the rest being Burmese) we saw that the beach was heavily polluted with all kinds of plastic, bottles, cans etc. We walked across the island to another 'nicer' beach that looked even worse. There were a handful of 'wardens' living on the island but it seemed to me that they had better things to do than cleaning the beach and make it suitable for people who wanted to take a swim.
The visit to a Moken village was somewhat depressing (we met only children and old people) and the waterfall must rank among the smallest in SE-Asia. The snorkeling trip, however, was something not to be missed! Not that we saw a lot of fish or corals. Even though there must be some of the latter as the boat man gave one he had freshly broken off to a passenger he seemed to like.
The real fun was to watch the Burmese passengers snorkeling and enjoying themselves.  Most of them wore a life vest and floated on a life-buoy and looked into the deep blue clear sea.  Altogether, definitely not worth the money! 
From Myeik there is at least one flight per day to Yangon. So we took the plane back and saved a lot of time.