A night out in Maymyo (Pyin Oo Lwin)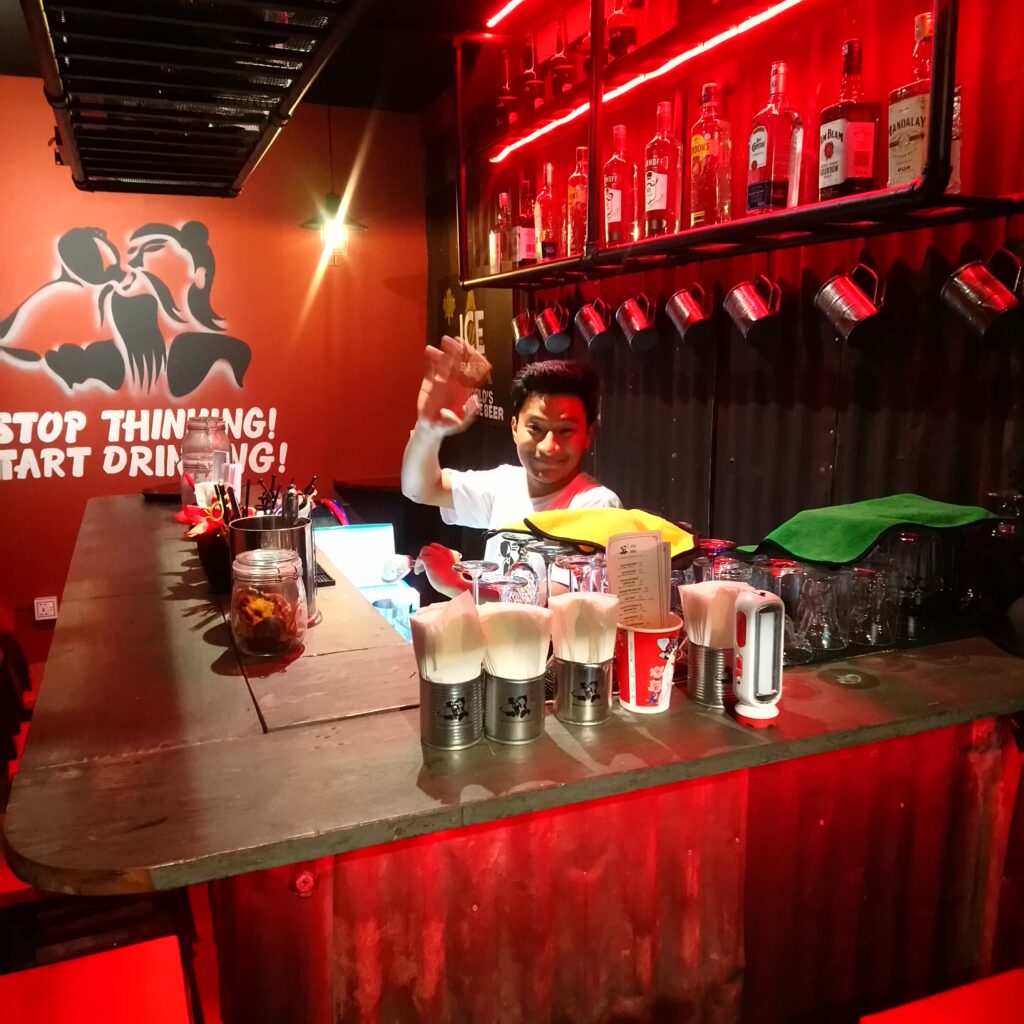 A few days ago I stumbled across a new bar downtown: the Shisha Bar! This discovery made me curious: how many bars are there in our town? And I decided to start a survey.
The above-mentioned Shisha Bar is a very small place, basically an annex of the famous Sein Pauk Cantonese restaurant. The barman is a nice guy and he speaks English to a degree. They have beer and cocktails and as it seems clients can order snacks from the restaurant next door. As I don't drink beer I asked for cocktails and he gave me a small list. I chose a 'Chinese cocktail' – magaung ti' gaung, I'd say. But he promised me that for my next visit he'll prepare my favourite Pina Colada for me.
So yesterday I went to check out some other bars together with my wife. The AE 86 on the Circular Road (opposite Luxury Hotel) was our first stop. As it seems, it is a combination of a bar and a car wash. Never mind! An unplugged live band was performing: Ba Wa, popular throughout the land since his appearance in 'The Voice Myanmar'. This promised to be an extraordinary evening! We chose a table and after a short while a waiter came and cleared the remnants of the previous client's meal – straight to the ground.
A dog happily licked it up. We asked for a cocktail list and when he brought it, we saw that it included not less than twenty cocktails. Unfortunately, no Pina Colada again. So I chose a Mai Tai and my wife a Screwdriver. After a few minutes he came back and told us that our choice was not available – only three others. And that it might take some time because the place was so crowded. So we decided to give it a miss and went to another bar on the Mandalay-Lashio Road.

The Xtreme Reflection bar strangely was selling car stickers, too. The waiter brought the drink menu and it looked somewhat familiar: Twenty cocktails! Well, maybe there's only one print shop in this town and it did the printing for both bars. There was live music, but the musicians were not celebrities like Ba Wa. In order to make good for that, the guests were allowed to sing with the band. And they did! It's amazing, how out of tune some people are able to sing. Nevertheless, their friends were enthusiastic and cheered them on. We didn't. Instead, we ordered two cocktails and after a short while the waiter came back and told us, that only three were available. Fortunately, a Mai Tai was among them and I ordered it even though the price was a hefty 7.500 Kyat. My wife ordered a fresh mango juice – when it came, it turned out to be of the canned variety. After a while my cocktail arrived. I would be exaggerating claiming that I know a lot about cocktails. But I've had some Mai Tai before in my life and they looked completely different from the drink they served me: it was a watery fluid that smelled like medical alcohol pads. I didn't want to cause a scene, so I took a sip. I've never tried sucking alcohol pads in my life but I guess the taste must be somewhat like this drink. Fortunately I had brought my smartphone along. So I went to the counter, showed the cashier what a Mai Tai looked like and refused tom pay for it. They had no objections and then we left. I'm looking forward to my next encounters in Pyin Oo Lwin's bars and will keep you posted. Just in case you come here …