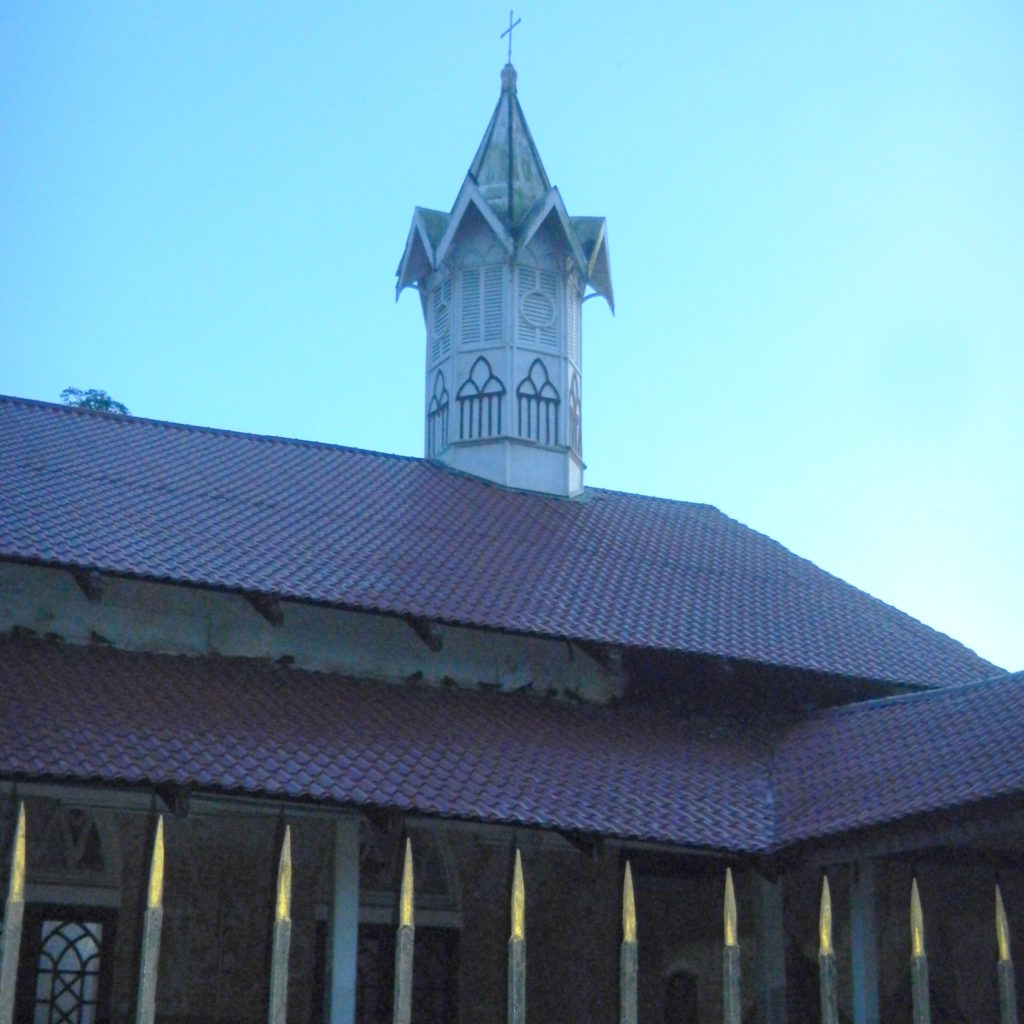 I've always been fascinated by Rangoon's multicultural society of colonial times and am eager to learn what happened to those communities after independence. In the early 2000s, I had an office in Bo Aung Kyaw Street and often wondered about the church on the corner of Merchant and Bo Aung Kyaw Street and its history. One day, I had a look and was surprised to learn that it is the oldest existing Christian church in the country. Mr. Richard Minus is the leader of the Armenian community in Myanmar, and he and his daughter Rachel were friendly enough to tell me about the history of their people in Myanmar. Here's what he had to say:
My name is Richard Minus, actually Minoussian but the British shortened it for whatever reason. I was born in Rangoon, and I'm a member of the Armenian community in the country. The first Armenians came to Burma as traders in the early 17th century — the first tombstone dates from 1725. My great-grandfather was Makertich Minus, who held an important position as an advisor to the king at the last Burmese royal court. He was the governor of Melun (Arakan) and married an Armenian lady. Unfortunately, we have no records of his ancestors.
My grandfather was a merchant whose business was 'nationalized' after the 1962 military coup. His eldest son was my father, Eric. He was an engineer and worked in the Syriam refinery, where he had a house. Our grandfather's estate was on University Avenue in Rangoon, right next to that of Aung San's widow, Daw Khin Kyi. She used to be a nurse by profession, just like my mother. She knew her neighbor, Aung San Suu Kyi, very well. In 1986, the grandfather died. His sons sold the house and shared the money.
Ten immediate family members still live in Myanmar, and many have emigrated. My uncles are also married to Burmese women; we keep in touch with each other and our expatriate family members, who mostly live in Australia, Canada, the USA, and Great Britain. Most of them emigrated during World War II. Many Armenians today have adopted Burmese names. My daughter Rachel is married to a Burmese and tries to teach her children about Christian values with her husband's consent. John Felix (BBC) has reported on our church (https://www.bbc.com/news/magazine-28867884). We estimate there are still about a thousand Armenians or their descendants living in the country.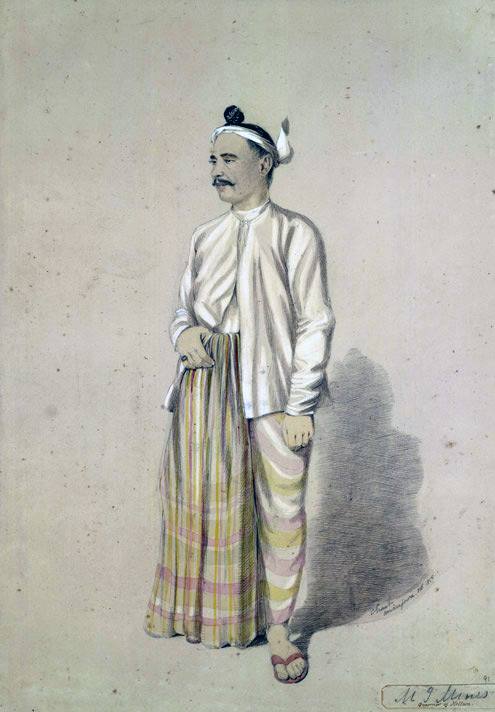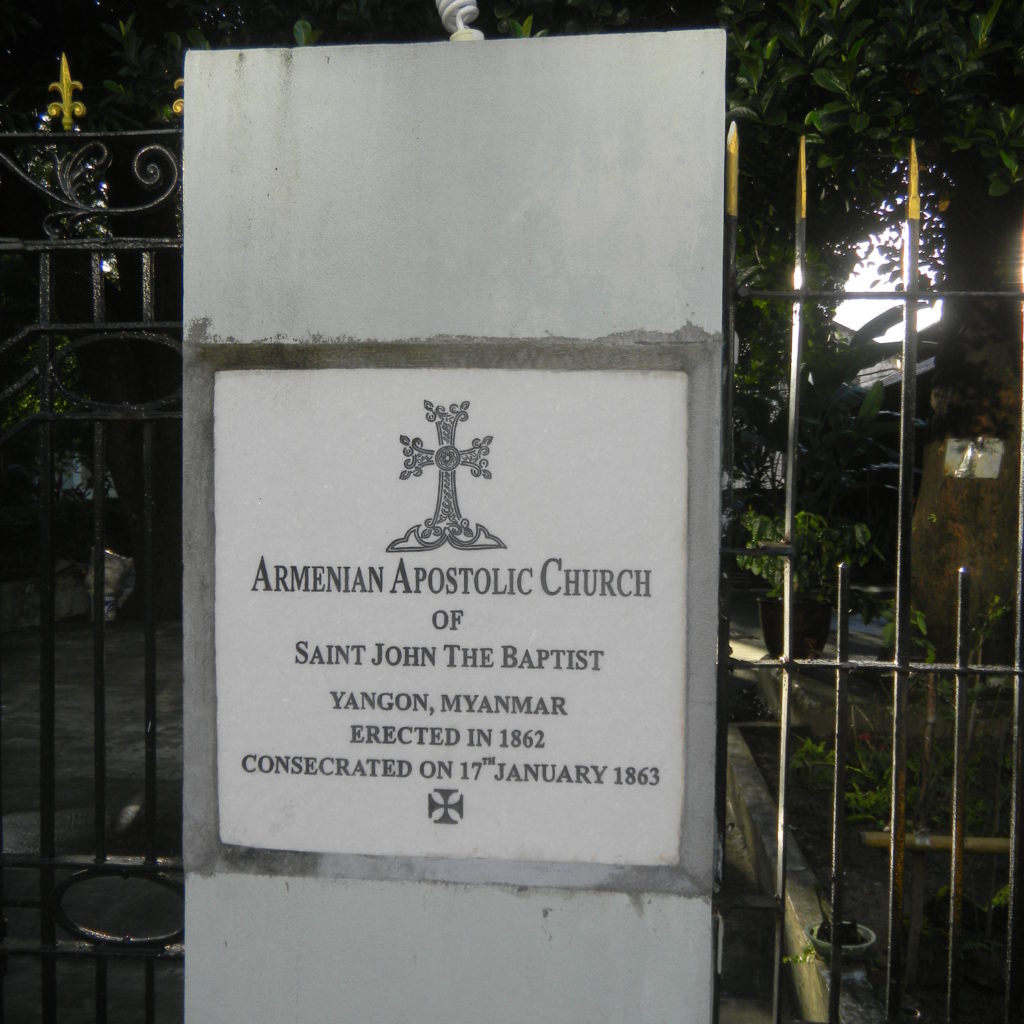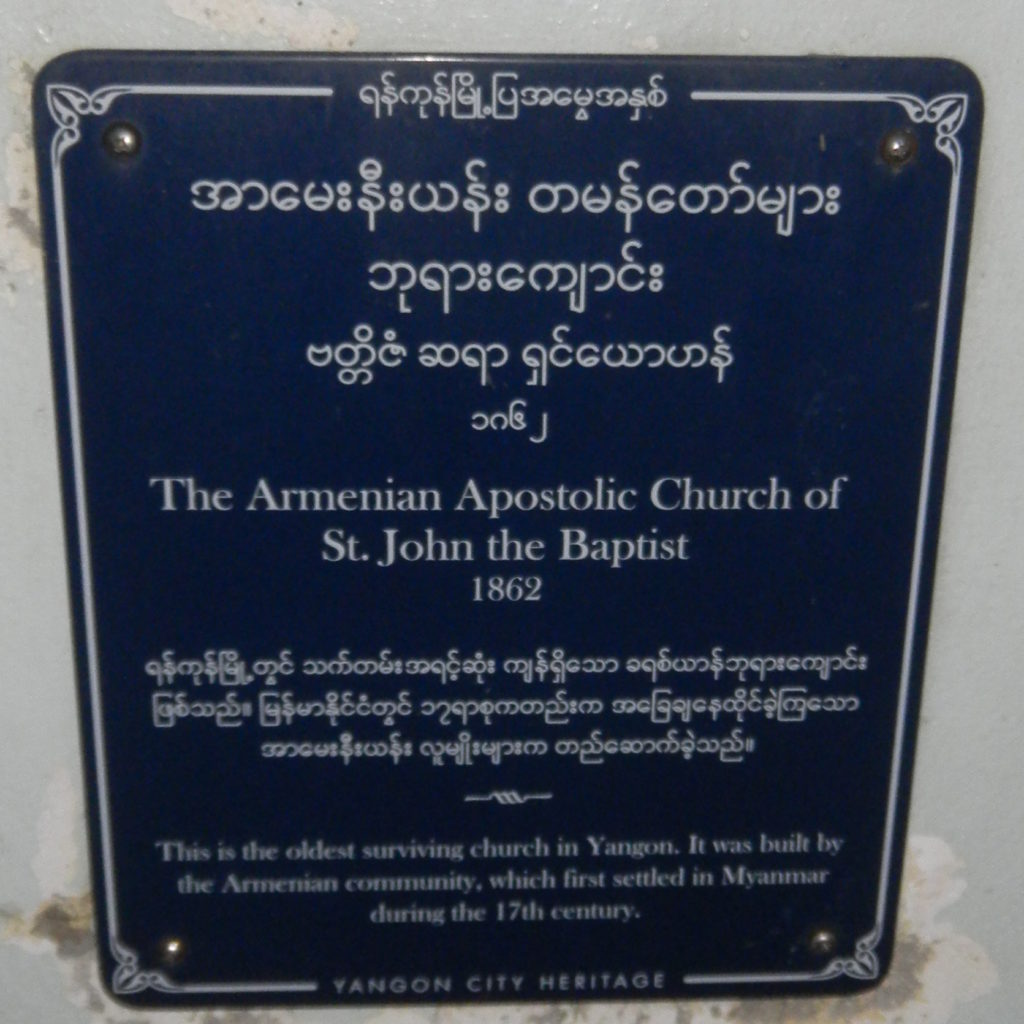 The Church: The building was constructed in 1862, making it the oldest existing Christian church in the country. It replaced a building from 1766 that stood near the river and was probably destroyed by fire. Like most of the city's religious buildings, it was built on Freehold Land. A service is held there every 14 days, attended by a priest from Calcutta. Daughter Rachel does not speak Armenian but can sing hymns in the language. Armenians (partly from abroad) and locals come to the service, as well as Indian Orthodox and sometimes Serbs. Patriarch Kerekin II visited Yangon for the reconsecration of the Church. The church is packed at Christmas (January 6th) and Easter (corresponding to the Catholic festival). Mr. Minus and his daughter read the Bible every day. Whenever he comes to Yangon from his home in Thanlyin, he goes to church. After the death of Mr. Martin, the last 'pure' Armenian, he is now their trustee.
Peter Marcar is his friend. His family left Myanmar before World War II. In 2003, he returned to Burma and is doing business here again. Some Burmese Armenians have achieved great prestige. The Sarkies brothers founded the Strand Hotel in Yangon, the E&O in Penang, and The Raffles in Singapore. The Armenian merchant Balthazar donated a bronze statue of Queen Victoria in the late 19th century to demonstrate his loyalty to the British Crown. The British regarded the Armenians as uncertain allies because of their connections to the old royal house. Balthazar also owned the building named after him on Bank Street and the former US Embassy building on Merchant Street. The statue was probably melted down in 1942 by the Japanese, who built a Shinto shrine for fallen soldiers on this site. Today, the Independence Monument stands there. More information here: https://www.chasingchinthes.com/one-quarter-armenian-one…/ AND https://www.peopleofar.com/2014/08/30/bbc-report-the-last-armenians-of-myanmar/