I had a boat in Burma (English)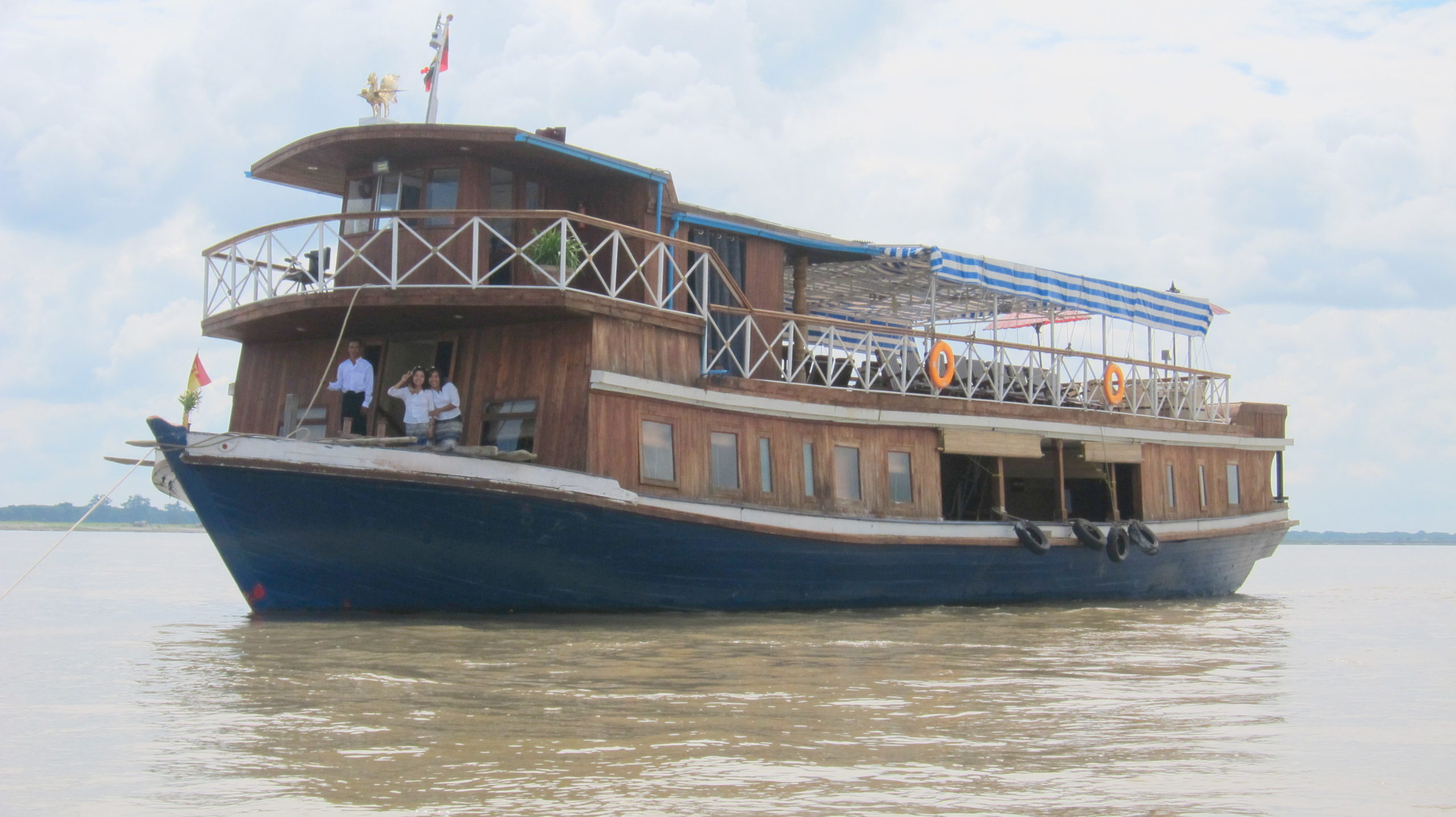 Our boat was most probably built in the 1990s for the ever expanding fleet of the NAWARAT shipping company in Mandalay. Until 2012 it was mostly doing the popular Mandalay-Mingun-Mandalay run for local tourists and foreigners under the prosaic name of Nawarat IV. This trip would usually last a few hours: upriver to Mingun, where the clients would spend some time to see the monuments and then go back to Mandalay. Occasionally, it would be chartered for longer trips, e.g. to Bhamo etc. For these trips the owner would add some plywood partitions and create some primitive 'cabins', equipped with a mattress and a mosquito net. Two rather basic toilets were available for the passengers. Day trips to Bagan were another source of income for the owners.
And then Axel Bruns joined the game. He was a tour leader from Germany who worked for all the big names in the business. He had been doing dozens of those trips with his clients and never been satisfied with what he got: smelly toilet facilities and rickety staircases to the upper deck, where the clients would spend most of the time. And, worst of all from the safety point of view, a railing about one ft. high that was more decorative than serving its purpose. The clients had to sit on pink plastic chairs or rather uncomfortable bamboo 'deck chairs'. A dirty awning rounded up the sorry picture. 
At least, Axel Bruns was able to enforce that there were enough life-vests aboard. Quite often he had nasty discussions with the boat owners when he refused to leave Mandalay without life-vests. Many times he'd been thinking about how nice it would be to have a proper boat for the trip to Bagan. But there was no reasonable alternative to the floating coffins for day trips to Bagan. Except for air conditioned, noisy water bus with Burmese karaoke songs blaring in the lower deck and a tiny sun deck where you could buy a cup of Mama instant noodles for a dollar. 
Thus, the idea was born: why not build a proper boat with a nice sun deck, comfortable deck chairs, a proper main rail, a staircase to the upper deck that was safe even for elderly clients? With clean toilets, maybe even a shower and nice tables and chairs for meals. And wouldn't it be great to have a bar for the sun downer? Soon, a few friends were eager to join the project. So far, so good. But according to an old proverb too many cooks spoil the broth. And that's exactly what happened. The whole thing got completely out of hand! Wouldn't it be great to have a few cabins for longer trips? Of course, with attached bathrooms and hot water. And very soon we were on the way to convert the humble river craft into some kind of luxury boat. And so disaster took its course… In early 2013 we bought Nawarat IV. 
We paid much too much and we even didn't have a proper look at the boat's hull. Which proved to be a grave mistake as three years later we had to replace the entire rotten forecastle for a lot of money. A further mistake was the lack of an accurate market analysis. Otherwise, we would have seen that there were already a lot of boats in the business. But we greenhorns were absolutely convinced that the clients would queue up in order to get a passage on our beauty. We were wrong! The conversion of the boat was marred by labour conflicts, culminating in outright sabotage.  Finally, in October 2013 she made her maiden voyage from Monywa to Bagan. 
After some initial trouble it proved to be a success and gave us fresh hope. But it wasn't to be. Our original crew dispersed quickly and we had big problems to find a captain and a crew. Fluctuation was high. And we couldn't find a reliable and able manager. In 2014 I got acquainted to a German compatriot. Finally, German thoroughness and reliability seemed to have arrived on the Ayeyarwady River! Quite unexpectedly, he ran away after a few weeks with five thousand dollars while I was hospitalized in Germany. Slowly but surely, my dream of having a boat in Burma had turned into a nightmare. We managed to stumble along, losing money all the time.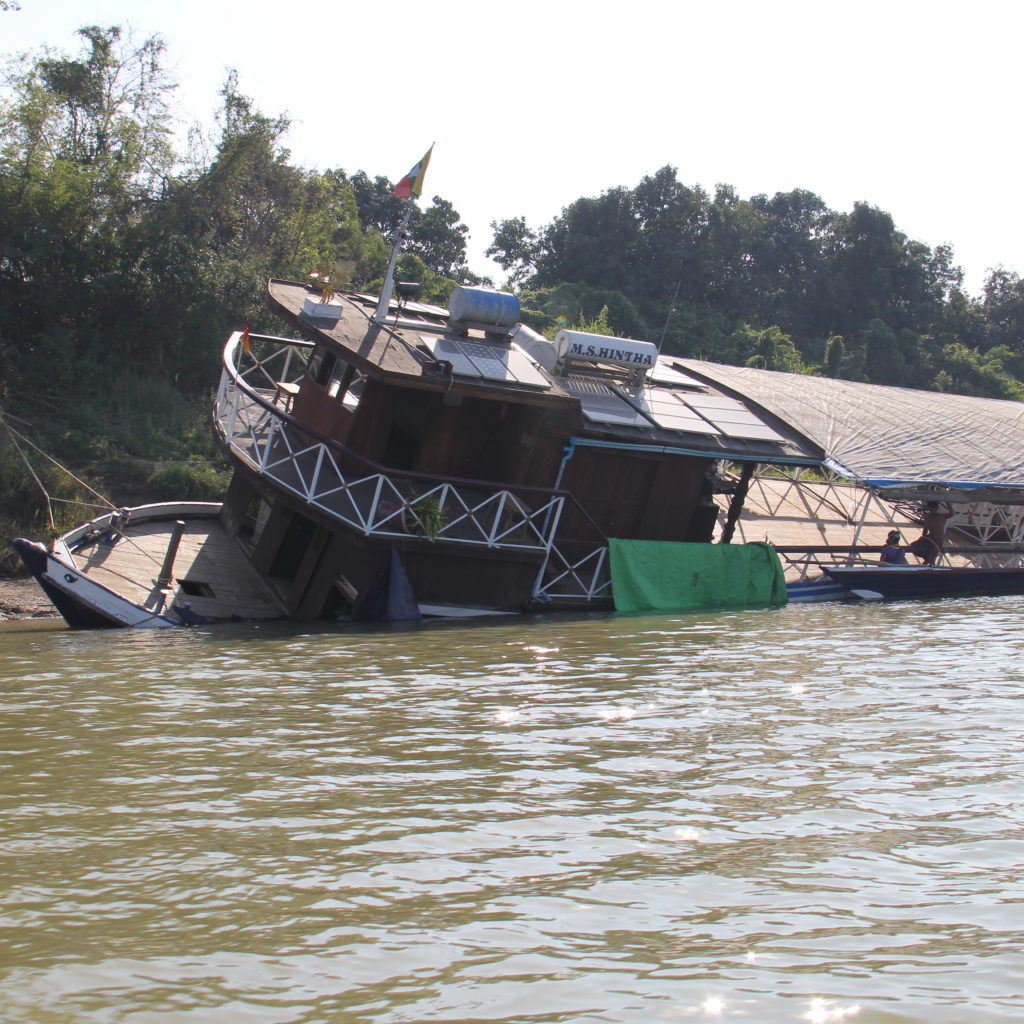 Our fortunes literally hit rock bottom on the morning of 11. January 2016. I was still asleep when the telephone rang. My friend Helmut who was sailing to Bagan with two German VIP couples told me that my boat was sinking. I thought he was making a bad joke. But he wasn't! Shortly after passing the old Sagaing Bridge the boat had hit an underwater obstacle near the river bank in Inwa. It tore a big hole into the boat's hull and very quickly it tilted about 45 ° to starboard. The passengers and their German tour leader managed to get ashore safely and while the crew frantically tried to save their belongings (like rotten old pillows and mosquito nets etc.) my expensive cane chairs floated down the Ayeyarwady River… How could this happen? Well, the answer is simple. The captain was an idiot and so was the engine man. When the captain realized that the boat was about to hit the obstacle he signaled the engine man to go into reverse. Unfortunately he was not in the engine room where he belonged. Instead he was taking a smoke and chatting with other crew members. The crew managed to stabilize the boat in its precarious position with ropes tied to some trees on the shore. It took us several days to get the boat afloat again and then we had the leak repaired. The captain and the engine man had to stand trial before the inland water ways fact-finding committee. As could be expected they got away with an admonition and as the boat was owned by foreigners, compensation was out of the question. 
We decided to sell it for whatever price we could fetch. I was commissioned to find a buyer. As could be expected, meanwhile everybody in Mandalay knew the story and nobody was interested in buying the boat. The deliverance came from – Denmark. I had placed an ad in Yangon connection and a Dane seemed to be interested. Unfortunately, he didn't want to buy the boat as a whole but wanted to acquire a 50 % share. And he wanted me to be his partner. In order to get a least a bit of compensation for my partners, I agreed. And I really believed that now everything would go smoothly as the new partner would act as manager. He bought my former partner's share and invested quite a bit of money in repairs. When we had clients I regularly came along. But meanwhile there were so many boats in Mandalay that it was impossible to get sufficient business. So we decided to relocate the boat to Yangon and to offer trips in the delta where there was hardly any competition. We made some trips and in seemed that we finally were on the right way. But we were wrong again. While in Mandalay, our manager had dealt with Inland Water Transport Authority whenever necessary. But in Yangon this task fell to my wife. They really gave her a lot of trouble and a hard time. We paid and paid and paid. Finally, we decided to get rid of this money burner and sold it for a pittance to a hotel owner in Salay.